Standard Days Method | Resource Repository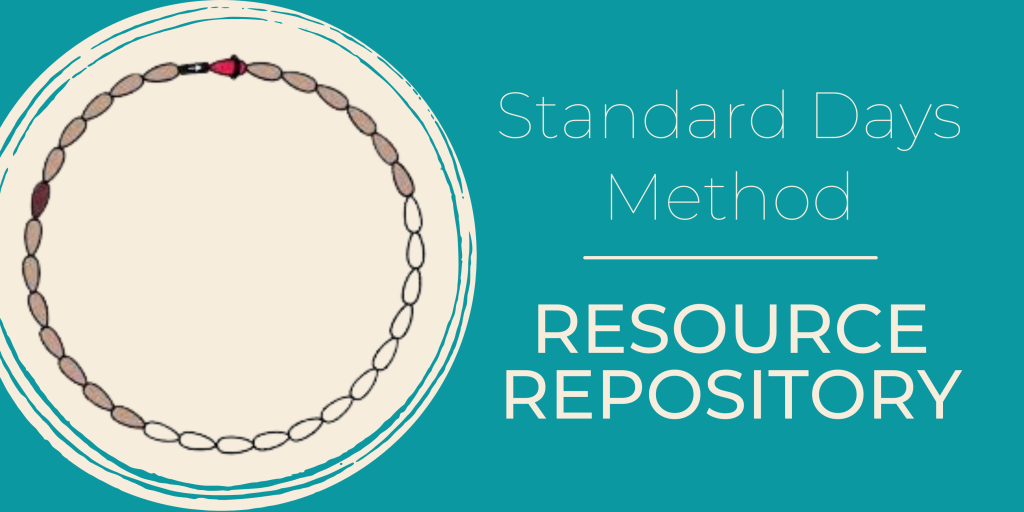 Standard Days Method (SDM) is a modern, fertility awareness-based method of family planning that is 95% effective when used correctly and 88% with typical use. SDM is used with CycleBeads®, a simple innovation of color-coded beads available in different formats (i.e., string of beads, mobile app, paper image), to help users easily monitor their fertile and infertile days, and avoid unprotected sex to prevent pregnancy on fertile days.
This method has been proven to be acceptable to providers and users, and is currently being offered in services of ministries of health, NGOs, faith-based and community-based organizations in more than 20 countries worldwide.
Programs interested in including SDM in regular family planning services need to consider a number of essential steps, outlined in the graphic below, to ensure that SDM is successfully integrated. This system-based approach ensures that all aspects of service delivery are addressed, and sets the method up for sustainability. (Please click on the graphic to enlarge).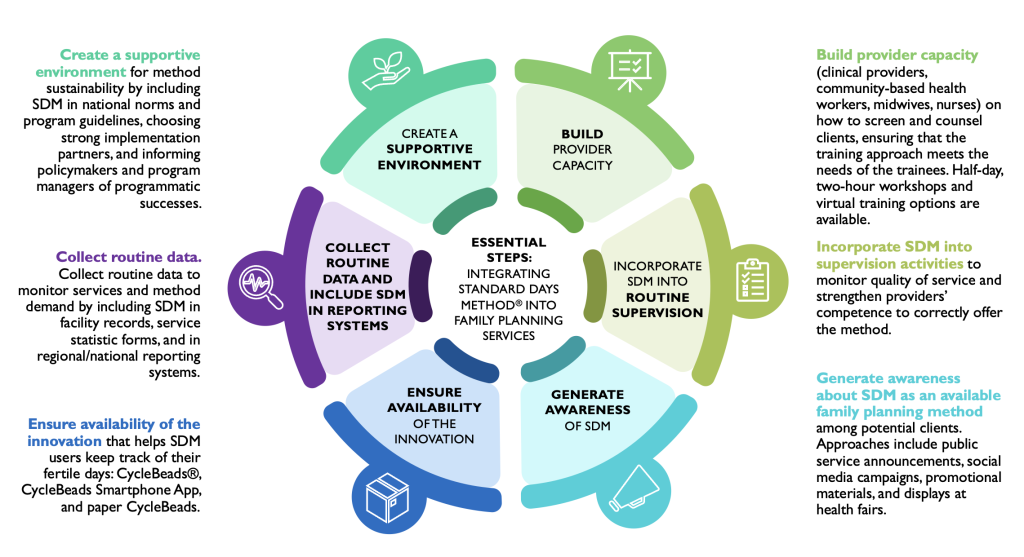 The Resource Repository below is designed to accompany each of the essential steps, and serves as a "one-stop-shop" for resources needed to facilitate successful SDM integration. Resources can be downloaded and adapted for programs as needed.
CREATE A SUPPORTIVE ENVIRONMENT
Create a supportive environment for method sustainability by including SDM in national norms and program guidelines, choosing strong implementation partners, and informing policymakers and program managers of programmatic successes.
eLEARNING
Global Health eLearning Course: Standard Days Method
This course helps the learner be able to (1) define the Standard Days Method®  and CycleBeads®  and how it works, (2) list the advantages and challenges of SDM, (3) understand the factors that facilitate or limit use of SDM, including common misconceptions, (4) describe how SDM and CycleBeads can be made more available in country programs, and (5) understand the essential steps for integrating SDM into the family planning method mix. Time for completion: 2 hours
BRIEFS & RESOURCES
BUILD PROVIDER CAPACITY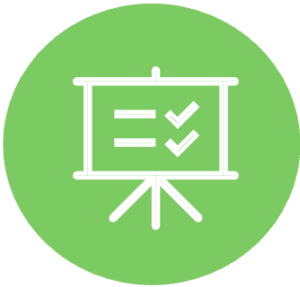 Build provider capacity (clinical providers, community-based health workers, midwives, nurses) on how to screen and counsel clients, ensuring that the training approach meets the needs of the trainees. Half-day, two-hour workshops and virtual training options are available.
TRAINING CURRICULA & MATERIALS
Counseling Clients in the Standard Days Method: A Training for Service Providers
In-Person Training for Facility Providers ENGLISH | FRENCH | SPANISH
Offering CycleBeads: A Toolkit for Training Community Health Workers ENGLISH | KINYARWANDA
This toolkit is a for those who train or supervise community health workers. It is designed to help you plan and conduct a workshop that prepares community health workers to: (1) Offer Standard Days Method of family planning, and (2) use CycleBeads and the package insert as a tool to learn about and use this method.
Webinar for Natural Family Planning Teachers
This training package is intended for natural family planning teachers and is available in English and Spanish HERE. To complete the webinar, first review the Power Point Presentation by downloading the presentation, or viewing the narrated presentation (English). Next, choose and complete one of the practicum activities. Note that the website www.naturalfp.com has additional resources for NFP teachers.
Interactive Voice Recording (IVR) Training ENGLISH | KINYARWANDA | HAUSA
Expanding Access to Family Planning through Group Learning & Counseling: Implementation Handbook ENGLISH
This Implementation Handbook was designed to assist program managers in adapting the Group Learning and Counseling model for their own organization or program. Group Learning and Counseling is an evidence-based model that utilizes non-health youth volunteers to spread Fertility Awareness (FA) within their communities, deliver Fertility Awareness Methods (FAM) directly to couples with limited access to family planning (FP) services, and support linkages to health workers through referrals for other FP options.
PROVIDER & CLIENT MATERIALS
COUNSELING VIDEOS
CYCLEBEADS INSERTS
View the list of the instructional inserts available that accompany CycleBeads and support the user with correct method use.
INCORPORATE INTO SUPERVISION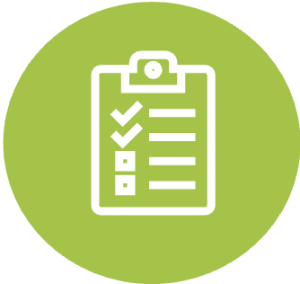 Supervisors can play an important role in monitoring and supporting providers in offering SDM correctly. Thus, SDM should be incorporated into on-going supervision. The Knowledge Improvement Tool (KIT) supports supervision by identifying and assessing provider skills essential to offering quality SDM services.
GENERATE AWARENESS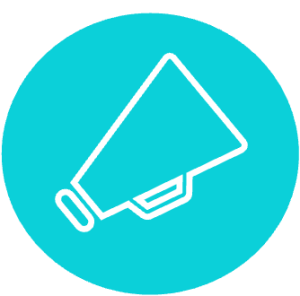 Women and men need to know about SDM and its characteristics to assess whether it is an appropriate option for them, so generating awareness about SDM is an important step in method introduction. There are many channels to use to increase awareness about family planning methods, such as radio, television, print media, and social media, in addition to sharing information at healthcare facilities. Here are sample promotional materials that can be used and distributed at clinics and/or health fairs:
ENSURE AVAILABILITY OF THE INNOVATION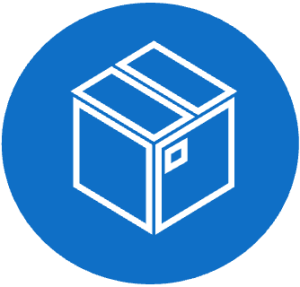 To offer SDM successfully, programs must consider how to procure CycleBeads (the "innovation") to ensure that the tool is available to method users. CycleBeads, the simple innovation of color-coded beads that helps users monitor their fertile and infertile days, is available in three different formats:
CycleBeads, the physical tool, are available from Cycle Technologies, the distributor, and USAID-supported programs can purchase them at a negotiated price. To order them, contact info@cycletechnologies.com. Instructional inserts in multiple languages and for varying levels of literacy are available are listed below.
CycleBeads, the mobile app, is downloadable for free in the Apple and Google Play stores.
CycleBeads, the paper version, can be printed by programs and useful during commodity stock-outs. Paper versions are available in English, French and Kinyarwanda HERE.
TOOLS & BRIEFS
Useful tools and briefs to inform logistics and procurement planning and decisions include:
A Forecasting Guide for New and Underused Methods of Family Planning ENGLISH This forecasting guide equips programs to make the necessary assumptions on which to base projections for any method that is new and/or will be expanded considerably in a particular setting.
How to procure CycleBeads: a visual tool for the Standard Days Method ENGLISH, WHO Advisory Note
CycleBeads Product Brief ENGLISH, Reproductive Health Supplies Coalition
CYCLEBEADS INSERTS
Here is a list of the instructional inserts available that accompany CycleBeads and support the user with correct method use:
CycleBeads Instructions – General/Regional
CycleBeads Instructions – Faith-Based
CycleBeads Low-Literacy Instructions (Country-Specific)
EVIDENCE & EXPERIENCE
PEER-REVIEWED JOURNAL ARTICLES
KEY RESOURCES
SCALE-UP BRIEFS
PROGRAM BRIEFS & REPORTS
VIDEOS