Module 5: Scale-Up of Norms-Shifting Interventions
This module provides an overview of key concepts of planned scale-up using the ExpandNet framework as a guide, including defining the norms-shifting intervention (NSI) and its implementation supports, and considering additional elements to consider when planning scale-up. It then reviews some important technical, capacity, and ethical considerations for scaling up NSI.
Please refer to the Facilitator Materials, starting with the Facilitator Guide, before you deliver this Module.
All Module 5 Materials can be downloaded below.
← Return to the Social Norms Training Curriculum landing page.
Resource Snapshot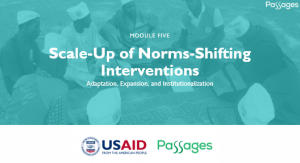 Year 2022