Module 4: Measuring Normative Shifts in Complex Environments
This module provides an overview of monitoring and evaluation. The monitoring section includes strategies to improve norms-shifting intervention (NSI) implementation, and also discusses project monitoring and rapid studies, which provide a basis for learning and adaptive management of NSIs during implementation. The rest of the module presents the evaluation of normative shifts, including a discussion on measurement, examining quantitative and qualitative approaches to measure normative change resulting from NSI project implementation.
Please refer to the Facilitator Materials, starting with the Facilitator Guide, before you deliver this Module.
All Module 4 Materials can be downloaded below.
← Return to the Social Norms Training Curriculum landing page.
Resource Snapshot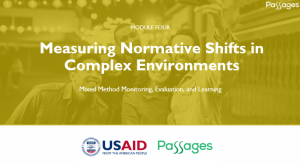 Year 2022