Module 3: Designing Norms-Shifting Interventions
This module focuses on designing norms shifting interventions. It takes the key concepts and learning from formative research to focus on norms program design, including approaches and issues to consider when designing norms-shifting interventions, strategies that norms-shifting interventions have used to shift norms, and reflections on the importance of ethical grounding to norms program design and implementation.
Please refer to the Facilitator Materials, starting with the Facilitator Guide, before you deliver this Module.
All Module 3 Materials can be downloaded below.
← Return to the Social Norms Training Curriculum landing page.
Resource Snapshot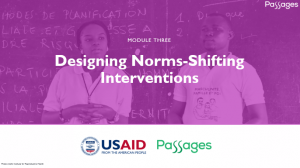 Year 2022