"Take it as your own": Working with parents and communities to support VYAs to GrowUp Smart
In October, IRH joined the Ministries of Health and Education and youth-serving organizations in Rwanda to launch GrowUp Smart, a brand new puberty and fertility awareness education program for very young adolescents (VYA) aged 10-14 years old. National-level stakeholders and community members came together with VYAs and their parents for a day of singing, dancing and theater in celebration of the participatory program, which aims to provide adolescents and their support networks with the knowledge, attitudes, and skills to promote healthy choices and safe behaviors related to sexual and reproductive health (SRH).
GrowUp Smart's unique role
GrowUp Smart was originally inspired by CycleSmart™, a simple set of materials developed and tested by IRH in 2011 in Rwanda and Guatemala to teach VYAs about puberty in a visual and concrete way. But over the course of its development, GrowUp Smart evolved into a completely new approach that draws on several of IRH's innovative, evidence-based youth resources, like the GREAT Project's Growing Up GREAT! flipbooks*, and the My Changing Body curriculum. New topics were integrated into materials, and a comprehensive facilitator manual, designed to guide the use of these materials, was developed. All new tools were carefully tested and validated by VYAs, their parents, experienced facilitators, and policy makers.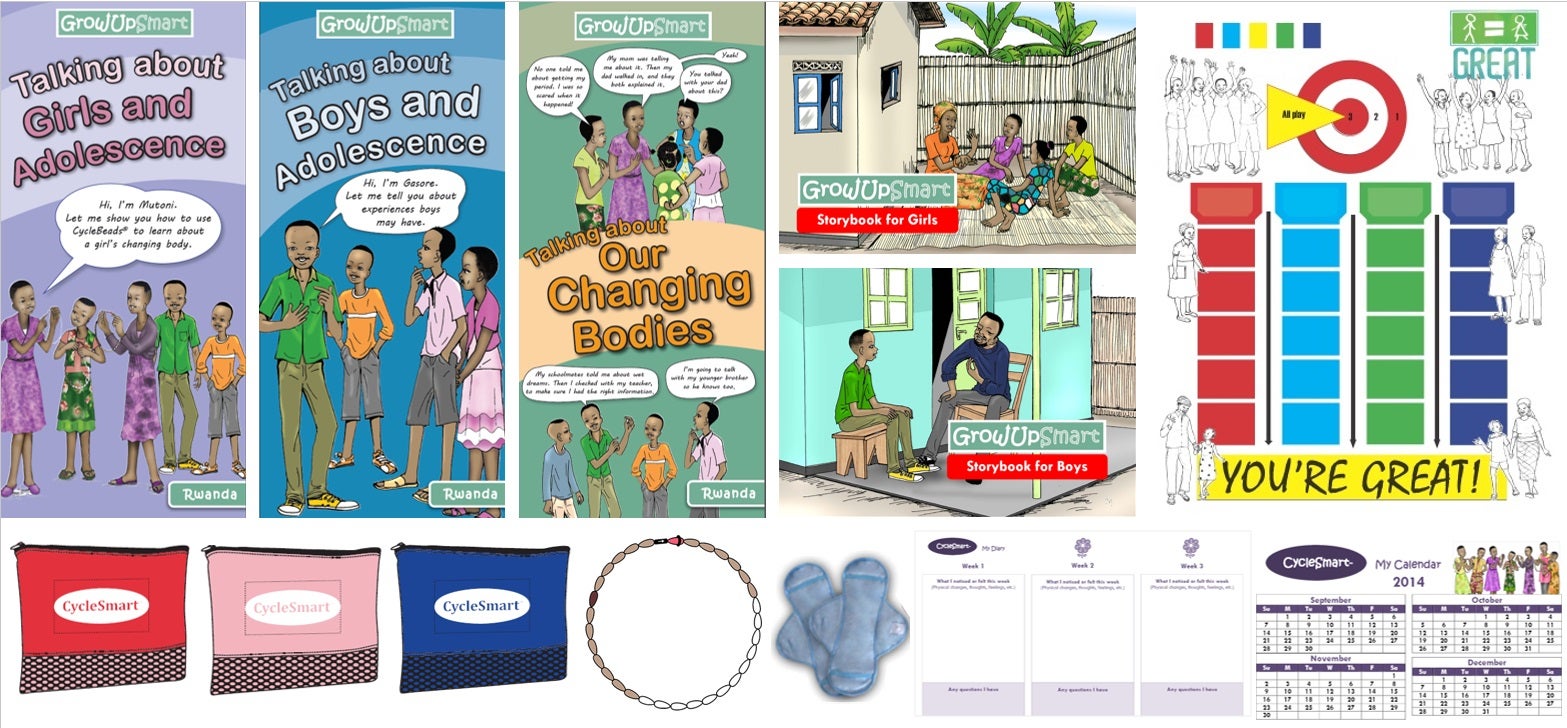 The resulting curriculum is a rich and engaging set of materials that introduces VYAs to sensitive topics such as puberty, fertility, gender, hygiene, safety and communication. Each topic is explored over the course of nine interactive, educational sessions for VYAs. Sessions are led by trained GrowUp Smart facilitators from youth-serving organizations including the Rwandan Girl Scouts, Hope Foundation, and the YWCA. Sessions are supplemented by brochures, puberty storybooks, CycleSmart kits for girls containing CycleBeads® to help them learn about their menstrual cycles and reusable pads to support menstrual hygiene management, and a community game reinforcing curriculum topics. Two additional sessions target parents of participating youth and cover parent-child communication, sexuality and gender, puberty and sexual and reproductive health information.
GrowUp Smart fuels local excitement
GrowUp Smart not only seeks to bring about change at the individual and family level but at the community level.
At the launch, one district representative Eugene Burezi called the community to action: "Get fully involved in it," he said. "Extend it to your neighboring schools and community. Take GrowUp Smart as your own."
Led by GrowUp Smart facilitators, the community participates in Community Sensitization Days where youth convey what they have learned in GrowUp Smart through creative exhibitions like song, drama, games and other fun and locally-developed activities. Launch celebrations gave youth participants the opportunity to portray some of the challenges they face and to express their excitement about GrowUp Smart. Some performed skits illustrating common myths about puberty and sex that can lead to poor decision-making and negative consequences. A group of boys sang songs praising community-supported programs that provide accurate health information and encourage conversation between parents and children. A young girl recited an original poem:
Never confuse what growing up smart means!
It means awareness of body changes
Escaping the foolishness of youth
Assuring safety and a long life journey
Being a smart person, growing up smart
Excited and happy with GrowUp Smart
I call upon you all: come closer, relatives!
Share with me this incomparable gift.
Come closer; celebrate GrowUp Smart!
What's next?
GrowUp Smart is now being implemented in five of Rwanda's 30 districts with over 1,700 VYAs and 500 parents. Educational sessions will continue through April 2015 with a goal of reaching up to 3,500 YVAs and 1000 parents, as well as countless community participants. The aim of this intervention is to gather and share valuable information on GrowUp Smart's effect on puberty and sexual and reproductive health knowledge, attitudes, and behaviors—and ultimately, so youth can make informed decisions about their health both now and in the future with the support or their parents and community.
Stay tuned for more on GrowUp Smart!
—-
*Growing Up GREAT! flipbooks were created as part of a larger scalable toolkit, in partnership with Pathfinder International and Save the Children.
Jennifer Gayles is the Rwanda Country Manager at Georgetown University's Institute for Reproductive Health Washington, D.C. headquarter office, providing operational and program support for GrowUp Smart and other Rwanda-based initiatives.