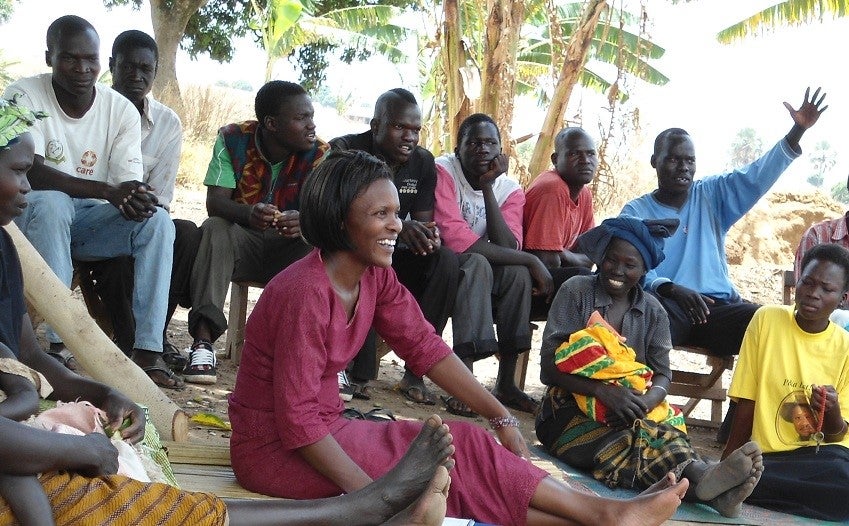 The Gender Roles, Equality and Transformation (GREAT) Project developed and tested the effectiveness, feasibility, and scalability of strategies to encourage gender-equitable attitudes, norms, and behaviors.
The project was developed with the goal of reducing gender-based violence and improving family planning and reproductive health (FP/RH) outcomes among adolescents and their communities from 2010 to 2019 in the post-conflict region of Northern Uganda. The project was implemented by IRH, Save the Children, and Pathfinder International, together with local partners Straight Talk Foundation and the Concerned Parents Association.
As a gender-transformative intervention, GREAT used participatory activities to encourage critical reflection and dialogue, correct misinformation, and support collective action to foster healthier and more equitable norms. They were also designed to change expectations for appropriate behavior. The GREAT package consisted of four complementary components: the community action cycle (CAC) by community leaders to promote and sustain change, a 50-episode serialized radio drama called Oteka, linkages to FP/RH services via community health workers, and the toolkit. It was designed for scale from the beginning. Specifically, it was designed for existing groups and local governing structures to implement and scale with modest time and financial inputs, to reach a tipping point, or community saturation, and to achieve social change. A research-to-action approach was used to assess progress, effectiveness, reach, and scalability, and to make adjustments throughout the project span.
In 2015, the GREAT team worked with local governments to scale up GREAT, expanding it to four additional districts in Northern Uganda. Programmers made changes to the intervention based on the pilot results and worked to integrate the intervention into ongoing activities of other organizations. GREAT continues to be implemented by organizations in northern Uganda and has been adapted and implemented in several countries around the world.
Read more about the GREAT Project How-To Guide and download it here.
Formative Research and First Steps
The first year of the GREAT Project was dedicated to forming local partnerships and conducting formative research to gain insight into the development of gender norms, the importance of life transitions, and other interventions that addressed gender norms among adolescents globally.
Ethnographic Research: Investigators conducted ethnographic research to understand how gender norms are learned, internalized, and passed on, and if individuals would be motivated to change norms that negatively reflect RH. Participatory qualitative methods appropriate for use with children (e.g. photographs, mapping, and stories) were used during the collection of life histories from 40 young people at different stages of the life course (very young adolescence, older adolescence, newly married, and newly parenting), and in-depth interviews with 40 additional individuals nominated by youth as being significant influencers in their lives. The ethnographic research provided insight into the gender and social norms influencing adolescents in the community.
Program Review: Pathfinder International conducted a comprehensive review of gender transformative programs for adolescents globally, identifying successful approaches with potential for scale. The results of the review were used to guide the GREAT package of activities.
The GREAT team used the results of the ethnographic research and program review to develop the intervention model and activities. The activities were piloted in the Lira and Amaru districts of Northern Uganda.
Intervention
During the second year of the GREAT Project, Save the Children and Pathfinder, with support from IRH, developed intervention activities following five guiding principles established by the consortium: 1) transforming social norms; 2) focusing on opportunities in life course transitions; 3) engaging all levels of the ecological framework; 4) using a relational approach that includes women, men, girls, and boys and; 5) engaging existing groups to build trust and foster a foundation for sustainable change.
Each components of the GREAT Project was created to foster discussion and reflection among adolescents and adults about gender norms and gender equity. The activities were designed to build on each other in order to create long-term change.
GREAT includes the following components:
Toolkit
The GREAT Toolkit consists of four components designed to be engaging, interactive, fun, and effective.
Download the entire GREAT Scalable Toolkit English | Lango | Acholi
Radio Discussion Guides provide small groups with questions to catalyze active dialogue and reflection on key themes from the weekly Oteka broadcasts.
Activity Cards tailored to age groups prompt reflection and collective action among group participants.
Download the GREAT Activity Cards  English | French | Portuguese
The GREAT Community Engagement Game is a fun and dynamic way for groups to explore gender norms and roles in their communities.
Coming of Age Flipbooks use the Oteka Radio Drama characters to help very young adolescents understand puberty, explore gender norms, and adopt more equitable behaviors.
Community Action Cycle
Community leaders and mobilizers engage in a process of collective dialogue and action, based on planning by communities which first define their current status, what changes they seek to achieve, and how to make this community change happen. Fostering change hinges on the transformation of social norms and attitudes towards gender, RH, and violence.
Download the CAC Implementation Guide  English | French 
Radio Drama
The Oteka Radio Drama is a 50-episode serial radio drama aired on local radio stations across the implementation areas. It tells the stories of several families in the fictional village of Oteka, faced with challenging decisions related to relationships, sexuality, violence, alcohol, sharing resources and responsibilities, and parenting. It aims to generate excitement and interest in community rebuilding and cultural revitalization with respect to RH, gender equity, and gender-based violence, and to motivate young people to engage in GREAT project activities.
Village Health Team Service Linkages
Training is provided to Village Health Teams (VHT) to strengthen their ability to meet the RH needs of adolescents, reduce stigma of RH services for adolescents, improve referral systems for adolescents, and provide more gender-sensitive services to all community members. Training and support are also provided to facility-level staff to enable them to deliver respectful care.
The Pilot Phase
The third and fourth years of the GREAT Project were dedicated to piloting the intervention in the Amach, Ogur, Pabbo, and Lamogi sub-counties of the Lira and Amuru districts. GREAT reached about 100,000 people during the pilot period.
Researchers collected baseline data before the intervention from 4,500 adolescents and adults, and again two years later, after the intervention ended. They also conducted focus group and in-depth interviews with 152 participating adolescents. Additionally, four rounds of in-depth interviews with 60 participants were conducted over the two-year period of implementation from an intervention and a control cohort.
The results of the pilot revealed improved attitudes and behaviors among participants regarding FP, gender equity, and partner communication. More specifically, the results showed greater couple communication and shared decision-making, increased FP use, greater likelihood of seeking help in case of gender-based violence, reduced likelihood of reacting violently to a partner, and less acceptance of patriarchal norms around gender roles and gender-based violence.
Download the GREAT Pilot Results Brief
Scale-Up
During the fifth year of the GREAT Project, IRH and partners worked with the Government of Uganda and several NGOs to expand the GREAT Project within Lira and Amaru, as well as 33 sub-counties in the Agago, Dokolo, Oyam, and Pader districts. Scale-up was supported by an implementation guide developed by the project team.
The scale-up phase had two stated aims:
Build the capacity of organizations with widespread coverage in Northern Uganda to incorporate elements of GREAT into their programs; and
Expand the GREAT package throughout selected districts with the goal of reaching a tipping point to bring about sustainable change in gender norms, to promote long-term FP/RH improvement.
Before scaling up, IRH and partners revised the intervention based on pilot results, including changing radio broadcast times, reducing production costs for the toolkit, and streamlining training and materials for the CAC and health workers. A mixed-methods evaluation was conducted to assess the scale-up process, focusing on fidelity/quality, feasibility/capacity, and institutionalization. GREAT partners used monitoring, benchmarking, ethnographic research, and a coverage survey, using lot quality assurance sampling to assess scale-up.
Overall, the results of the scale-up evaluation were positive. The assessment concluded that, with intervention materials, orientation, training, and modest financial support, user organizations can adopt and introduce the GREAT Project into existing program activities.
While GREAT was piloted and scaled up in Northern Uganda, it has proven applicable in other contexts. Community-based organizations and international NGOs have integrated the toolkit, CAC, and VHT elements into psychosocial, life skills, health, girl child, orphan and vulnerable children, and child protection projects in the Central, Eastern, Northern, Southwestern, and Western regions of Uganda with funds from USAID, PEPFAR, UNFPA, and VSO/DfID. Interest has also grown among global audiences. IRH, Pathfinder International and Save the Children have leveraged USAID and other donor funding (such as Bill and Melinda Gates Foundation, Government of the Netherlands, DfID, SIDA) to translate and integrate the toolkit and CAC into adolescent health, education, and economic empowerment programs in DRC, Rwanda, Mozambique, Benin, and other West African countries.
Download the GREAT Scale-Up Results Brief
Lessons Learned
The results of the implementation and scale-up of GREAT yielded several important lessons.
GREAT, a relatively 'light touch' intervention, can help improve adolescent attitudes related to gender-equity, gender-based violence, and FP/RH. However, greater diffusion of new ideas and practices among non-participants would be needed to reach a 'tipping point' of community-wide change. More research is needed to find the appropriate balance between scalable, "light" interventions and overall levels of exposure and impact.
While the intervention components were extensively pre-tested and revised, the intervention would have benefited from a proof of concept phase to assess the package in routine implementation circumstances and adjust as needed before investing in the pilot. This additional investment would likely yield benefits in terms of ease of implementation, improved coverage, and package adjustments based on better understanding of change mechanisms.