Focus Area
Mobilizing technology for reproductive health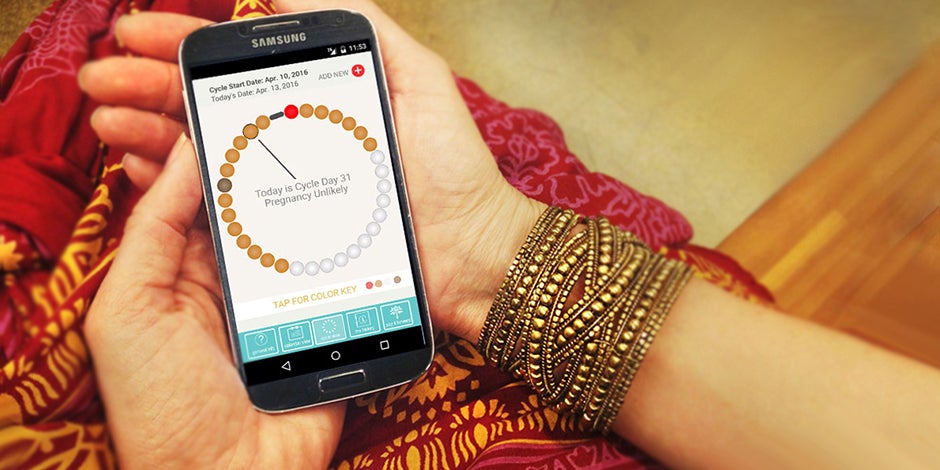 Technology is changing the world as we know it. We have never been more connected to information or to one another. The internet and mobile phones are shrinking our global borders and providing individuals with access to information and markets like never before.
IRH recognizes this unprecedented opportunity to leverage technology to improve reproductive health outcomes. We explore how technology solutions can be applied to fertility awareness methods of family planning to increase availability, access, and affordability of products and information in new, sustainable, and scalable ways.
Grounded in evidence-based research, we design and prototype online, digital and mobile products and bring them directly to users. These direct to consumer approaches have the ability to increase access, demand, and use of fertility awareness methods outside of health systems, as well as the potential to achieve multi-sector scale-up.
[Photo Credit: Cycle Technologies]
Examples of how we are leveraging technology to build new family planning tools:
CycleBeads® Apps
Smartphone apps that enable a woman to use the Standard Days Method® through her iPhone, iPod Touch, iPad or Android phone. CycleBeads Apps tell women what day of her cycle she is on, whether it is a fertile day or an infertile day, and when her fertile days will come this cycle. The information is provided on a calendar and a virtual representation of CycleBeads®. She can use this information to either plan pregnancy, avoid pregnancy, or as a period tracker. The CycleBeads app is downloadable for free in the App Store and the Google Play Store.
2Day Method App
A smartphone application to assist in the use of the TwoDay Method. A woman enters her observations of presence/absence of daily secretions, and is prompted if pregnancy is likely or not on the current day. The app is downloaded for free in the App Store.
CycleTel™
A SMS-based service that offers the Standard Days Method® (SDM) through mobile phones directly to women. CycleTel's automatic SMS technology screens and enrolls women based on their period start date, and alerts them of fertile days via personalized message. CycleTel was tested and launched in India, and is no longer available.
CycleBeads Online
A digital, web-based application for use of SDM, accessible online via a computer, tablet or phone. CycleBeads Online screens and enrolls women based on her period start date tracks monthly cycles, and alerts women of their unsafe days. Using a digital image of CycleBeads and a calendar, women can now track their fertile window from the privacy of their personal web-enabled device. This innovation is no longer available.