Les très jeunes adolescents et leurs parents – Comment Bien Grandir ! les a-t-il changés ?
En 2021, une équipe de très jeunes adolescents (TJA) et leurs jeunes mentors ont mené une évaluation participative en utilisant la méthodologie du changement le plus significatif pour collecter des informations sur les changements les plus importants vécus par les membres de Clubs TJA et les parents en raison de leur participation aux activités de Bien Grandir ! Ces changements ont-ils été ressentis en soi par les TJA et les parents ou ont-ils été vu ou mis en œuvre dans leur maison, leur quartier ou ailleurs ? Les filles et les garçons étaient-ils conscients de l'égalité des genres et la pratiquaient-ils dans leur vie quotidienne ? Leurs parents étaient-ils plus égaux en matière de genre pour aider leurs enfants à traverser la pression sociale de la puberté ? Le rapport est présenté sous la forme d'un slide doc avec une présentation orale intégrée dans la diaporama par le responsable MEAL de Save the Children qui a mené l'évaluation.
In 2021, a team of very young adolescents (VYAs) and their youth mentors conducted a participatory evaluation using the Most Significant Change methodology to collect information on the most important changes experienced by VYA Club members and parents due to their participation in Growing Up GREAT!  activities.  Were these changes felt internally by VYAs and parents or seen or acted out in their home, neighborhood, or elsewhere?  Were girls and boys aware of and practicing gender equality in their daily lives?  Were their parents more gender-equal in supporting their children navigating the social pressure of puberty?  The report is presented as a slide doc with an embedded oral presentation by the Save the Children MEAL Officer who led the evaluation.
Resource Snapshot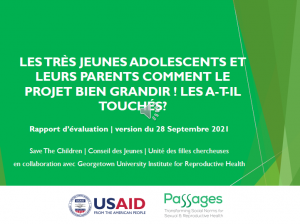 Year 2022