Results Brief: Integrating the Standard Days Method in Nepal
Though population surveys in Nepal continue to show a declining total fertility rate (TFR), the contraceptive prevalence rate (CPR) has stagnated over the past several years. This stagnation has been attributed to a combination of factors including migration, fear of side effects from hormonal methods, and limited access to family planning (FP) among marginalized communities. The result is increased use of traditional FP methods, higher rates of method discontinuation, abortion, and emergency contraception.
In an effort to diversify the method mix, the USAID-funded FACT Project, in collaboration with the Family Health Division (FHD) of the Ministry of Health and Population of Nepal and the National Health Training Center, designed and supported the introduction of the Standard Days Method (SDM), an effective and side-effect-free fertility awareness-based method.
CycleBeads, Cycle Beads, Malachakra, Mala Chakra, Family Health Division, FHD, Ministry of Health and Population of Nepal and the National Health Training Center, NHTC, MoH, Nepal, Knowledge Improvement Tool, KT
Resource Snapshot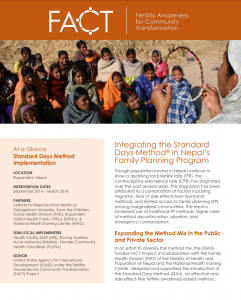 Publisher IRH
Year 2019