Brief: Taking a Social Change Intervention to Scale: Learnings from Tékponon Jikuagou in Benin
Tékponon Jikuagou is a low-cost package of activities that relies on existing social networks to diffuse new ideas in support of family planning. It works with communities' own resources, is easily added to existing development projects and portfolios, and is beneficial to both participating communities and implementing agencies.
We know from extensive research throughout the project that the Tékponon Jikuagou package is effective. In the Benin context, where unmet need was high and social barriers prevented family planning use, the package greatly increased the odds that women and men met their family planning needs.
But it is also instructive to examine Tékponon Jikuagou's scalability: the attributes that allow the approach to be taken to scale while maintaining effectiveness, quality, and fidelity to core principles. Never designed to be a stand-alone project, the package's most viable platform for scaling is assimilation into existing projects.
TJ, Tekponon Jikuagou, scale up, scale-up, scaling up, scaleup, social network mapping, pilot results, scale-up results, social network diffusion approach, Couffo, Ouémé, Oueme, adopt, adoption,  Organizational Capacity Self Assessment, Effectiveness Studies, Effectiveness Study 
Resource Snapshot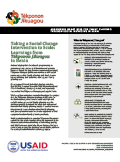 Publisher IRH
Year 2017