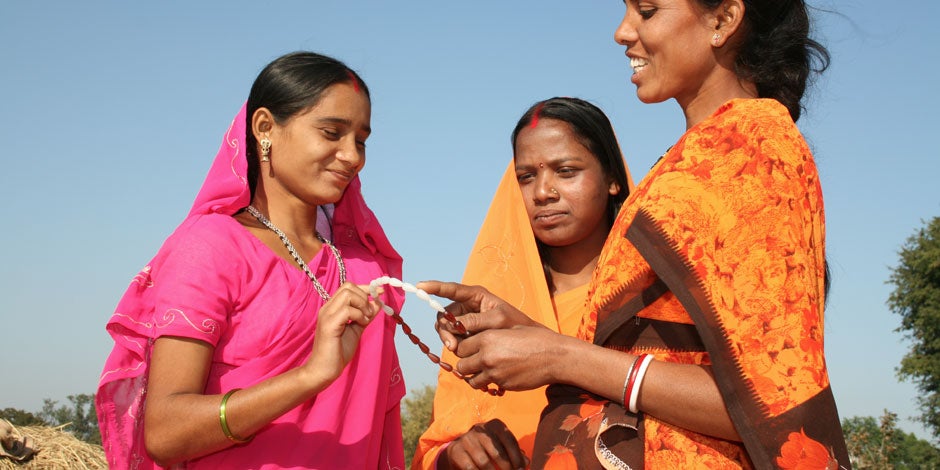 Under the FAM Project, IRH and partners have led efforts to focus attention on very young adolescents (VYAs) through evidence-based, innovative program designs and partner collaboration.
Contributing to research, M&E innovations for VYAs
Traditional research methods, such as structured interviews, do not work well with younger adolescents because of their still-developing cognitive and communication skills. IRH has developed methods which enable children's active participation, thus shifting the balance of power from researcher and participant. To gain insight into young people's perceptions of gender, equality, puberty and future aspirations, IRH uses participatory methods that engage youth, providing better avenues for adolescents to express attitudes, values and future intentions. Visual and participatory methods that are activity or game-based, such as projective drawing, photo-voice, and interactive pile sorts, provide fun and non-threatening ways to catalyze discussion of sensitive issues.
Designing and implementing programs for VYAs
To contribute to the global body of knowledge regarding VYA programming, IRH in partnership with FHI360, developed a training manual in 2003 for facilitators of adolescent-serving programs called My Changing Body. A second edition published in 2012 incorporates new material relating to gender and sexuality and added a module for parents. My Changing Body features interactive sessions designed to teach VYAs about puberty, including fertility and the body, self-image, gender norms and roles, communication, protective and risk behaviors, and relationships in and outside the home. A corollary set of participatory exercises for parents and facilitators improves their understanding of puberty-related issues and builds their skills to support their children. Results from the evaluation show My Changing Body to be an effective way to increase social awareness leading to healthier behaviors among boys and girls. There was an improved acceptability among youth and their parents to talk with each other about sexual matters and romantic relationships.
Based on formative research and findings from the evaluation of My Changing Body indicating that adolescent girls are receiving insufficient guidance on puberty, fertility awareness and menstrual onset, IRH developed the CycleSmart Kit for VYA girls. The CycleSmart Kit is a package tailored to girls ages 10-14 which includes CycleBeads®, the color-coded beads used to keep track of the fertile days of a woman's menstrual cycle, and is paired with an age-appropriate puberty pamphlet designed in partnership with young people to teach girls about their menstrual cycle, puberty-related changes, risk of pregnancy, and the power of fertility awareness in a visual, tactile and very concrete way.
Leading the global conversation on VYA programs
IRH has been active in raising awareness of the VYA program and evaluation gaps at a global level, including convening two international meetings on VYAs and participating in global inter-agency working groups. The first meeting, a technical consultation on curriculum-based programs reaching VYAs attended by many INGOs, researchers, and donors, was held in Washington, DC in 2010. A second meeting, held in Dakar in 2011 after the International Family Planning Conference, was attended by sexual and reproductive health practitioners, researchers, donors, and youth groups working mostly in Africa. These meetings have been conducted in consultation with partners such as Save the Children and WHO.