A Recap from the Learning Collaborative Summit on Social Norms Research and Practice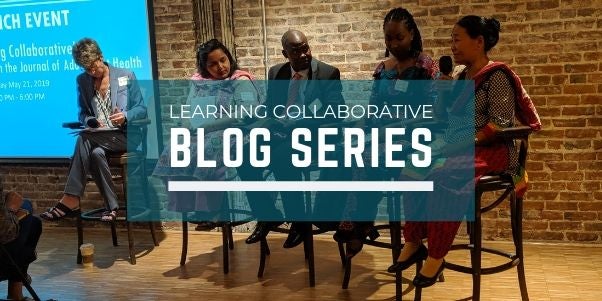 The Learning Collaborative to Advance Normative Change is a network of experts committed to facilitating collaboration between organizations and individuals working on adolescent and youth norms-shifting interventions. Members are working collectively to build knowledge and tools to promote and guide effective social norm theory, measurement, and practice. To this end, we have developed a series of blogs to clarify some of the key concepts in social norms work.
At the end of May, the Learning Collaborative to Advance Normative Change (LC) marked two years of partnership with a series of meetings to share LC resources and learning, take stock of our progress advancing social norms thinking and practice, and identify priority areas for further learning.
The meetings kicked off with the launch of the special Supplement in the Journal of Adolescent Health, "Advancing Social Norms Practice for Adolescent and Youth Sexual and Reproductive Health: The Why and the How," published in April 2019. Sohail Agha (Bill & Melinda Gates Foundation) opened the evening, introducing the supplement and the recognizing the cooperation it represents (including over 60 authors, reviewers and editors). Audience members heard from supplement contributors, including a panel each comprising commentary authors, manuscript authors, and experts with varying field perspectives. A key takeaway across panels was the importance of process documentation and program evaluation — especially when looking to scale-up — and sharing these learnings, indicators, and measurements with other social norms practitioners.
The following day, at the Summit on Social Norms Research and Practice, Learning Collaborative members dove head first into the sticky issues of social norms-focused interventions: How can we more accurately measure social norms? How do we approach norms-shifting interventions with cultural sensitivity and respect for our communities? What are the ethical ramifications of our personal, organizational and donor biases? How can we better speak about and collaborative on normative interventions across sectors? And how do we distill all of this information and guidance in a way that's practical for program implementers? Grappling with these issues, Learning Collaborative members including donors, researchers, and practitioners exchanged evidence, ideas, and resources in a cooperative effort to advance the social norms field. Please watch this space for blog posts addressing some of these timely and important ideas!
Following this dynamic exchange of ideas, a smaller group of Learning Collaborative members met to address opportunities and directions for the future of this initiative. To facilitate future iterations of the Learning Collaborative, one of the day's sessions focused on exploring potential synergies and learning from partners. During the group work of the last session, a thoughtful discussion on ethics unfolded, picking up the threads of the previous day's discussions on agenda setting for social norms interventions. Participants interrogated the unintended consequences of social norms interventions, including inequity, harmful consequences, and backlash, who is accountable, and how unethical practices can be disrupted.
The meetings closed with a re-commitment to what the LC has represented since its inception: a forum for elevating voices, an incubator for fostering connections both formal and informal, and a space to learn from each other.
To join the Learning Collaborative, please contact Cait Davin.