GREAT Voices: A Story of Leadership
The 'GREAT Voices' blog series highlights the stories of community members who have been inspired, motivated and changed by Gender Roles, Equality and Transformations (GREAT) Project interventions. Intervention activities include a themed serial radio drama with discussion guides, games and activity cards, Village Health Team capacity strengthening, and a community mobilization process called the Community Action Cycle—all which encourage dialogue and action on community-identified issues related to sexual and reproductive health. Learn more here.
Leader: Okello
Hometown: Pagoro Parish | Amuru, Uganda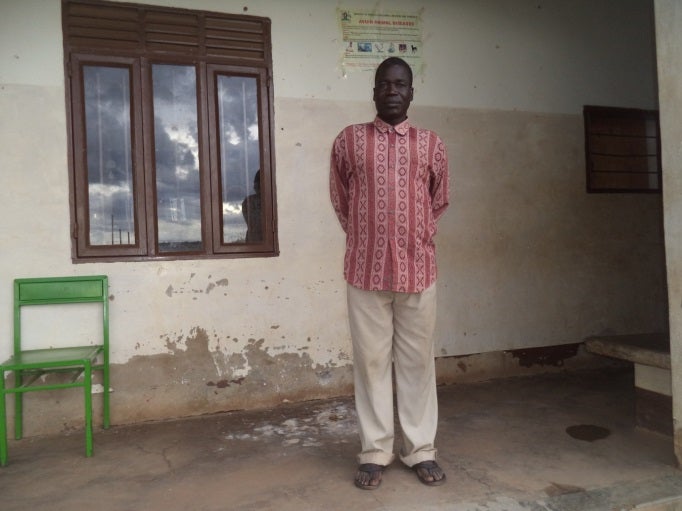 For 13 years, Okello has been a community leader in Kal Village. Rape and defilement have been long-time issues in Kal, averaging more than five cases a month. Even today, many young boys remain in prison for such charges.
Discouraged, Okello did not know how to reduce these ongoing high levels of rape and abuse alone.
Eventually, the GREAT Project began working in Okello's village. As a prominent leader, he was asked to participate in a Community Action Group—a group of community members who are trained to encourage discussion and find constructive solutions to locally-identified sexual and reproductive health issues.
Okello was inspired. In late 2012, he began hosting his own events, such as regular 'Wang-oo' or fireside discussion groups. There, community members were free to share and build consensus for the specific issues of concern to them. Sometimes, Okello would use stories or scenarios—like a girl in the village who got pregnant and had to drop out of school—to help launch a group brainstorm about why these situations were bad for everyone, and what actions everyone could take together to avoid them.
In March 2014 at a gathering of the Community Action Group, Okello proudly reported the positive changes he had seen in his community over the last year: instances of rape and abuse had been dramatically reduced to two reports in three months, one of which was committed by someone outside of the community.
Okello reflects on his community's ownership of GREAT interventions:
"This is a very great achievement that we have done for the people of this community with the Community Action Groups. GREAT works are clearly being seen on the ground. If it was started earlier, very many positive changes would have been realized in the community by now. I've seen many NGOs who come to our community, but the teachings would disappear shortly. GREAT helps guide us as leaders and address our own issues together as a community."
Okello continues to be committed to promoting dialogue about sensitive issues related to sexual and reproductive health and remains passionately devoted to the reduction of rape and abuse in his community.
—
Through the GREAT Project, the Institute for Reproductive Health at Georgetown University and partners Pathfinder International and Save the Children aim to promote gender-equitable attitudes and behaviors among adolescents (ages 10-19) and their communities with the goal of reducing gender-based violence and improving sexual and reproductive health outcomes in post-conflict communities in northern Uganda.