"Whose turn to do the dishes" hits Routledge's top 25 gender articles for 2013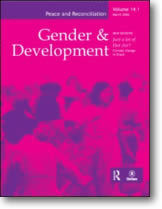 "Whose turn to do the dishes? Transforming gender attitudes and behaviours among very young adolescents in Nepal," published in Gender & Development this past March, ranked among Routledge's top 25 most read articles in gender studies last year.
Authored by Rebecka Lundgren (IRH), Miranda Beckman (IRH), Surendra Prasad Chaurasiya, Bhawna Subhedi, and Brad Kerner, the peer-reviewed article highlights research that was conducted in Nepal with Save the Children's Choices curriculum, a set of activities supporting very young adolescents (children aged 10-14) to explore alternative views of masculinities and feminities. Research revealed changes in children's gendered attitudes and behavior relating to discrimination, social image, control and dominance, violence, attitudes to girls' education, and acceptance of traditional gender norms, before and after participating in Choices. The hope is that this will lead to better sexual and reproductive health outcomes for participants and their communities in the future, as early adolescence presents a window of opportunity to intervene before individuals solidify their ideas about gender roles and norms.
In addition to this article, you can access the top 25 articles from a selection of subjects across the social sciences for free until March 30.