[Tékponon Jikuagou] Brief: Social networks & social change: New program approaches to reducing unmet need for family planning
Social network approaches in tandem with communication for social change approaches can be used to influence social norms and family planning attitudes and practices. The social network approach hypothesizes that once family planning ideas and use have been adopted by influential groups and individuals within a community, social interaction can accelerate the pace of diffusion by providing opportunities for social comparison, support and influence – not only for adopting a family planning method but also for continuation or switching. The communications for social change approach hypothesizes that public discussions by women and men on fertility and family planning will lead to greater social acceptance and family planning use by those desiring to space births. Combined, individual and normative changes should result and be sustained.
Read about the Tékponon Jikuagou experience in this brief.
Resource Snapshot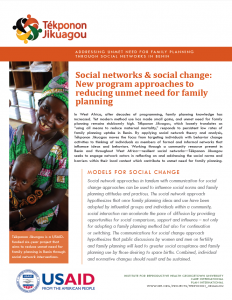 Publisher IRH/Care/PLAN
Year 2014