Summary of Recommendations from the 2013 IYWG Meeting & Technical Consultation
The 2013 Interagency Youth Working Group (IYWG) meeting, "The Big Picture: Viewing Gender, SRH and Very Young Adolescents through a Wide Angle Lens," hosted by FHI 360 and Georgetown University's Institute for Reproductive Health (IRH), brought together experts to address the critical importance of appropriate sexual and reproductive health (SRH) programming and research for 10- to 14-year-olds.
The meeting was followed by a half-day technical consultation where 27 key representatives reviewed the main outcomes and lessons from the meeting. Based on presentations and roundtable discussions held the previous day, participants developed strategy recommendations for improving the SRH of VYAs. This document provides highlights of these recommendations and is intended to guide future programming, research and investment at international, country and local levels.
Resource Snapshot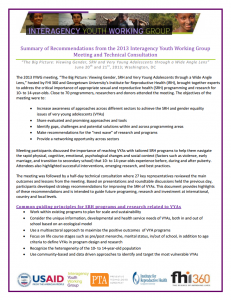 Publisher Interagency Youth Working Group
Year 2013