Side-Effects and Social Norms Influencing Family Planning Use in Nepal
Despite Nepal's relatively high contraceptive prevalence rate (50%), 27% of married women have an unmet need for family planning, and almost half of Nepalese women give birth by the age of 20. This formative study explored the factors that influence the use of family planning in Nepal.
Continuing Nepal's recent gains in contraceptives prevalence rate will require strong educational interventions addressing fertility awareness, social norms around son preference, dispelling fear of side-effects while increasing the family planning method-mix.
Contraceptive prevalence rate, Family planning, Fertility awareness
Resource Snapshot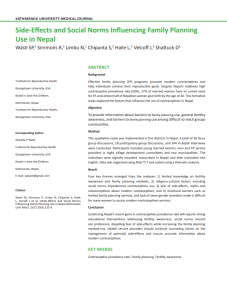 Publisher Kathmandu University Medical Journal
Year 2017