Results Brief: Social Marketing of CycleBeads in Banke and Bardiya Districts of Nepal
Since 2011, Nepal's modern method contraceptive prevalence rate (mCPR) has stagnated at 43% (NDHS, 2011 and 2016). Over the same period, the prevalence of traditional method use increased from 7% to 10%.
Two districts bordering India, Banke and Bardiya, have complex family planning (FP) use profiles. Banke's mCPR is lower than the national average at 41.7%, while Bardiya has a high mCPR in urban areas, but a much lower mCPR in rural areas of the district (NDHS, 2016). Additionally, the unmet need for FP is higher among certain religious minorities including Muslims in Banke and specific ethnicities in rural Bardiya.
The Standard Days Method® (SDM) has the potential to fill some of the FP gaps and reach users through alternative distribution mechanisms such as social marketing. SDM has been introduced through social marketing in various countries.
The Nepal Contraceptive Retail Sales (CRS) Company tested a multi-level approach for the social marketing of CycleBeads across 76 service sites in Banke and Bardiya from May 2017 to May 2018 with technical assistance from the Institute for Reproductive Health.
Resource Snapshot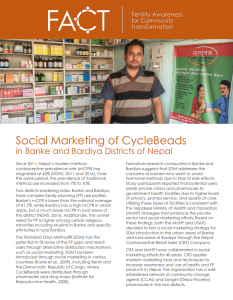 Publisher IRH
Year 2019