[Webinar] Principaux résultats et implications programmatiques d'une étude récente sur des normes sociales relatives à la santé reproductive chez les adolescentes célibataires au Burundi
Passages a organisé un webinaire le 23 juin 2021 pour diffuser les résultats d'une étude qualitative dans quatre provinces au Burundi qui a exploré les normes sociales liées aux comportements de santé reproductive chez les adolescentes et les jeunes femmes célibataires (15-19 ans). L'étude visait simultanément à identifier les individus et les groupes pertinents qui influencent et soutiennent ces normes sociales. Au total, 12 discussions de groupe avec des adolescentes et des jeunes femmes et 18 avec des influenceurs clés ont été menées entre décembre 2019 et janvier 2020. Les discussions de groupe se sont concentrés sur quatre domaines d'enquête : 1) la gestion des menstruations et de l'hygiène menstruelle, 2) les comportements sexuels à risque, 3) la violence sexuelle, et 4) la fertilité et le recours à la planification familiale volontaire.
Au cours du webinaire, l'équipe du projet a décrit les méthodes, les conclusions, les leçons clés et les recommandations programmatiques de l'étude. Voici l'enregistrement (FR) et les diapositives du webinaire (FR).
Passages conducted a webinar on Jun 23, 2021 to disseminate the findings from a qualitative study in four provinces in Burundi which explored social norms related to reproductive health (RH) behaviors among unmarried adolescent girls and young women (15-19 years). The study simultaneously aimed to identify relevant individuals and groups who influence and uphold these social norms. A total of 12 focus group discussions (FGDs) with adolescent girls and young women and 18 FGDs with key influencers were conducted between December 2019 and January 2020. The FGDs focused on four domains of inquiry: 1) menstruation and menstrual hygiene management, 2) sexual risk behaviors, 3) sexual violence, and 4) fertility and voluntary family planning use.
During the webinar the project team described the methods, findings, key learnings and programmatic recommendations of the study. Below are the recording of the webinar (FR) and the webinar slides (FR).
Les Diapositives du Webinaire/Webinar Slides - File Size: 3.01 MB
Resource Snapshot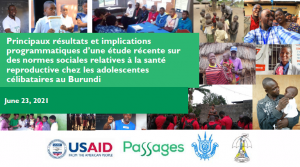 Year 2021