[Tékponon Jikuagou] Brief: Overcoming social barriers to family planning use: Harnessing community networks to address unmet need
In Sub-Saharan Africa, significant resources have been allocated for family planning programs, ranging from service improvement to policy advocacy activities, from mass media campaigns to peer education, and from strengthening contraceptive supply chains to expanding contraceptive choice. Yet, unmet need for FP remains high and sustained FP use remains elusive. In Benin, the situation is similar: modern FP uptake is low (9%) and unmet need for FP hovers at around 33%, despite multiple government and non-governmental efforts to increase access to information and services. Clearly other factors are at play, particularly social factors and norms that create barriers to FP use.
Learn more about how the Tekponon Jikuagou Project is addressing unmet need for family planning in Benin through community networks.
Keywords: TJ brief, brief, Tekponon Jikuagou, research brief, Terikunda Jekulu
Resource Snapshot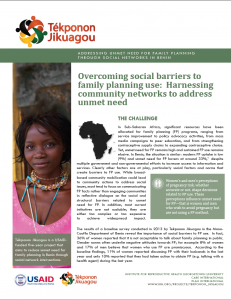 Publisher IRH/Care/PLAN
Year 2014