A Quick Guide to the Masculinities, Faith and Peace Project
The goal of Masculinities, Faith, and Peace (MFP) is to see a reduction in sexual and gender-based violence (SGBV), an increase in the healthy timing and spacing of pregnancies (HTSP), and improved inter-religious relationships. It does so by addressing social norms that shape  inequitable gender relations and prevent the use of modern methods of child spacing, in mixed Christian and Muslim communities in Plateau State, Nigeria.
This brief summarizes the elements of the MFP intervention.
Resource Snapshot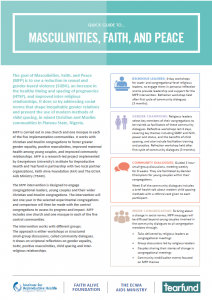 Publisher IRH & Tearfund
Year 2020