Masculinité, Famille et Foi: Promising Shifts In Norms to Support Family Planning in Faith Communities
An 18-month set of scalable activities supported by a research and learning agenda, Masculinité, Famille et Foi sought to build the evidence base for working with faith communities to shift social norms. These social norms shifts, in turn, could have a transformative influence on peoples' behavior related to FP, IPV, and gender equality, in particular with young couples in life course transitions such as entering new marriage and in becoming parents. This results brief shared findings from the quantitative endline evaluation of Masculinité, Famille et Foi showing promising shifts in norms for FP use, among other outcomes within key populations.
–
Un ensemble d'activités évolutives de 18 mois soutenues par un programme d'apprentissage, Masculinité, Famille et Foi a cherché à construire la base de preuves pour travailler avec les communautés religieuses pour changer les normes sociales. Ces changements de normes sociales, à leur tour, pourraient avoir une influence transformatrice sur le comportement des gens en matière de PF, de VPI et d'égalité des sexes, en particulier chez les jeunes couples en transition de vie, comme se marier et devenir parents. Ce résumé des résultats partagés de l'évaluation finale quantitative de Masculinité, Famille et Foi montrant des changements prometteurs dans les normes d'utilisation de la PF, entre autres résultats au sein des populations clés.
Resource Snapshot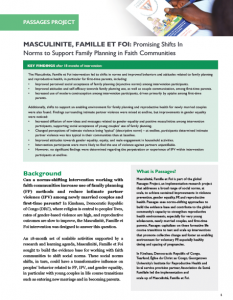 Year 2021