[Brief] Male Engagement in Family Planning: Reducing Unmet Need for Family Planning by Addressing Gender Norms
In 2013, with funding fromUSAID, IRH conducted an initial review of recent literature and programs on male engagement in sexual and reproductive health. The review showed that the practice of engaging men in sexual and reproductive health programs is not yet clearly defined, and evidence of its effectiveness is still accumulating.
This brief is based on: a) the preliminary review of recent initiatives to engage men in sexual and reproductive health programs; b) the subsequent technical consultation to define male engagement practices, discuss evaluation of male engagement programs, and consider feasibility of scaling-up successful approaches; and, c) the case study of four interventions which used gender-transformative approaches to engage men in family planning programs.
Keywords: brief, male involvement
Resource Snapshot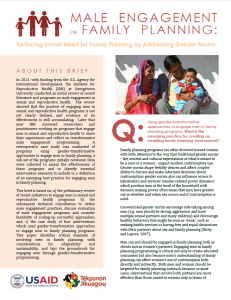 Publisher IRH
Year 2014