Increasing literate and illiterate women's met need for contraception via empowerment: a quasi-experiment in rural India
Published in Reproductive Health Journal, this peer-reviewed article reviews data from a three-year quasi-experiment conducted in two comparable, yet not equivalent, rural blocks in Jharkhand, India. Results indicate that women's normative beliefs concerning wives' power in decisions regarding money earned and visits to relatives and friends vis-à-vis their husbands' power were increased by the intervention; similar was the case among illiterate, but not literate, women regarding decisions related to childbearing. Concerning met need for contraception, the change for women with relatively more power who were illiterate was greater in the intervention than in the control area.
The findings suggest that women were empowered by outreach visits that addressed gender dynamics and that their empowerment contributed to their met need for contraception.
Resource Snapshot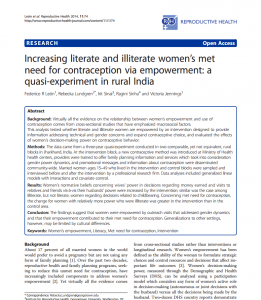 Publisher Reproductive Health Journal
Year 2014