[Webinar] The 'How-To' of Norms-Shifting Interventions: Improving Implementation with the Passages Project
This November 2021 webinar shares the Passages Project's years of experience designing, implementing, adapting, and learning from norms–shifting approaches. Speakers from the Passages Project consortium shared highlights from their experience working in the intersection of social norms and social and behavior change, designing programs, developing tools and guides to improve implementation, and best practices in monitoring and evaluation to improve the effectiveness and scalability of norms–shifting approaches.
Speakers were Olivier Bizimana (Tearfund), Mariam Diakite (Institute for Reproductive Health), Jennifer Gayles, Pierrot Mbela (both Save the Children), Jamie Greenberg (Georgetown University), Susan Igras (Georgetown University), Luke Martin (Tearfund),  Courtney McLarnon-Silk (Georgetown University), Dickens Ojamuge (Independent Consultant).
Download slides - File Size: 3.77 MB
Resource Snapshot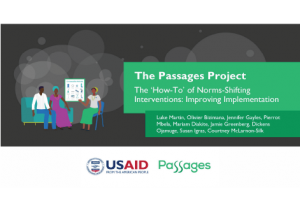 Year 2021