How to Use the CycleSmart™ Kit with Young People: Programmatic Guidelines
The CycleSmart™ Kit Programmatic Guidelines provides simple steps for including the CycleSmart Kit in programs for young people.
The CycleSmart Kit includes CycleBeads (a set of color-coded beads that help a girl keep track of her menstrual cycle and learn about her fertility) and a simple, factual brochure about puberty. The Kit also helps parents, teachers, health providers, peer-educators and others talk to young girls and boys about their changing bodies and how to stay healthy and safe.
Keywords: CycleBeads, Adolescent, VYA, Very Young Adolescent, CycleSmart, Collar del Ciclo, joven, United States, Rwanda, Guatemala
Resource Snapshot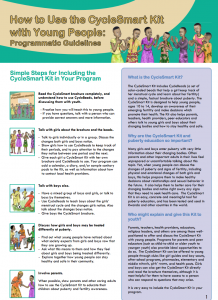 Publisher IRH
Year 2013