Growing Up Great! GEAS Wave 4 Report
The Global Early Adolescent Study (GEAS) is a worldwide investigation into how gender norms evolve and inform a spectrum of health outcomes in adolescence. The longitudinal GEAS study follows the experiences of over 15,000 adolescent boys and girls on five continents. In Kinshasa, the study also evaluates Growing Up GREAT! (GUG!), a multi-level intervention that works with young adolescents, their families, and community stakeholders to shift gender norms towards improved health.
This report outlines the impact of the GUG! intervention using difference-in-differences analyses to compare average changes in the intervention vs. control group over time. It also provides cross-sectional findings for sexual and reproductive health (SRH) indicators newly introduced in wave 4, and cohort results that are representative of all GEAS-Kinshasa participants.
Resource Snapshot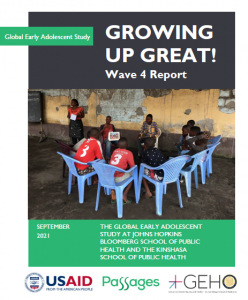 Year 2021