GrowUp Smart Endline Study Report
Georgetown University's Institute for Reproductive Health, in collaboration with the Ministry of Health, Maternal Child and Community Health Unit, and three youth serving organizations under the Expanding Family Planning Access, Availability and Awareness (A3) Project tested GrowUp Smart, a multi-component puberty and fertility awareness intervention for very young adolescents ages 10-14 years, and their parents in Rwanda.
The present report describes findings from the endline/post-intervention interviews with youth and parents who had participated in GrowUp Smart sessions. This report also helps to compare baseline/pre-intervention and endline/post-intervention evaluation findings, and to measure the effects of the GrowUp Smart.
Keywords: growup smart, grow up smart, VYAs, baseline study 
Resource Snapshot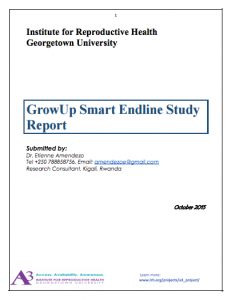 Publisher Institute for Reproductive Health
Year 2015