Fertility Awareness & Body Literacy Guide
Fertility awareness is much more than an understanding of how pregnancy occurs. Fertility awareness can empower women and men to understand their pregnancy risk and identify what is healthy and normal for them, and know when to seek reproductive healthcare. It can help youth understand their changing bodies and recognize safe and healthy reproductive behavior. Fertility awareness can foster communication between partners, parents and children, providers and patients, and teachers and students. It provides the scaffolding for healthy decision-making, and can enable an individual to advocate for one's health and that of others. It provides an acceptable entry point for discussing topics often considered taboo.
Through case studies and lessons learned from the FACT Project, this guide explains how integrating fertility awareness into social and behavior change (SBC) activities can improve health and wellbeing.
fertility awareness, FA, (FA), body literacy, fertility facts, FACT, FA guide, e-magazine, magazine
Resource Snapshot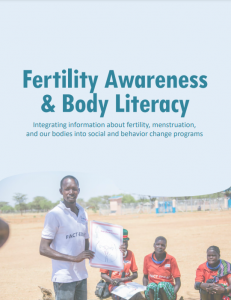 Publisher IRH
Year 2018