[Webinar] Past, Present, and Future: Reflections on Social Norms Measurement from the Passages Project
In this February 2022 webinar, we shared measurement learnings from the Passages Project's seven years of contributing to advances in the social norms field. In addition, experts from within and beyond Passages gathered to reflect on the current state of social norms measurement, share experiences, and discuss promising approaches.
Speakers were Beniamino Cislaghi (LSHTM), Susan Igras (Georgetown University), Sadhvi Kalra (CARE – USA), Charlotte Lapsansky (UNICEF), Rebecka Lundgren (UC San Diego), Lydia Murithi (Pathfinder International), Bryan Shaw (Georgetown University).
Download slides - File Size: 2.17 MB
Resource Snapshot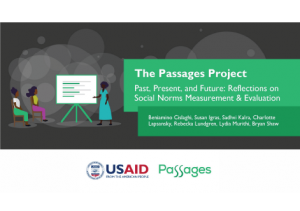 Year 2022