[Brief] Exploring the Links between Developmental Assets and Sexual and Reproductive Health among Very Young Adolescents: The Case of Northern Uganda
Georgetown University's Institute for Reproductive Health (IRH) in collaboration with Search Institute conducted survey research to test whether positive relationships, opportunities, values, skills and self-perceptions (developmental assets), measured by Search Institute's Developmental Assets Profile (DAP) survey, are significantly associated with SRH outcomes. IRH developed SRH indicators to add to the original 58-item DAP survey to create the "DAP+". SRH indicators included measures such as SRH knowledge, ability to access SRH services, and availability of adult and peer resources for discussing SRH matters. Differences between boys and girls in both the prevalence of SRH indicators and the association between developmental assets and those SRH measures were also examined.
Read the brief to learn about the study design, results, and recommendations for the future.
Resource Snapshot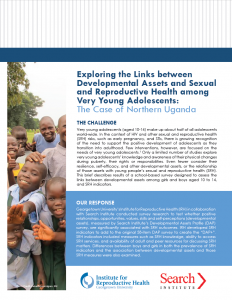 Publisher IRH/Search Institute
Year 2015