[Webinar] Situating Social Norms within Behavior Change Initiatives: Advancing Understanding
In this September 2021 webinar, speakers from and outside of the Passages spoke on the project's legacy of Advancing Understanding of social norms. Over the seven years of the Passages Project, we've made progress towards a shared understanding and language of social norms. Together we have grappled with questions such as: What is a social norm? How do norms influence behaviors? Do norms matter for behavior change? Does my intervention shift norms?
In this series of quick-fire presentations, speakers introduced practical resources developed in collaboration with global practitioners, discussing how each resource was created – including their own struggles with sticky concepts – and discuss how they can advance social norms practice.
Speakers were Kathryn Barker (UC San Diego), Lenette Golding (Save the Children), Rahinatu Hussaini (Save the Children), Susan Igras (Georgetown University), Laurie Krieger (The Manoff Group), Anjalee Kohli (Georgetown University), Rebecka Lundgren (UC San Diego), and Linda Sussman (USAID).
Download slides - File Size: 3.25 MB
Resource Snapshot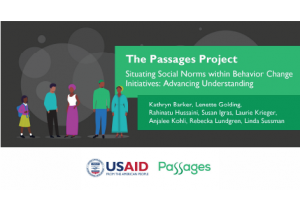 Year 2021