A Forecasting Guide for New and Underused Methods
The forecasting guide equips programs to make the necessary assumptions on which to base projections for any method that is new and/or will be expanded considerably in a particular setting. This guide is widely applicable to new and underutilized methods (NUMs)—such as emergency contraception (EC), CycleBeads®, IUDs, female condoms, and implants—in addition to any reproductive health commodity for which use is expected to increase significantly.
The guide was developed under a project funded through an Innovation Fund grant from the Reproductive Health Supplies Coalition. The Reproductive Health Supplies Coalition is a global partnership of public, private, and non-governmental organizations dedicated to ensuring that all people in low- and middle-income countries can access and use affordable, high-quality supplies to ensure their better reproductive health.
Keywords: Standard Days Method, NUMs, NUM, forecasting, CycleBeads, logistics, procurement, commodities, family planning
ENGLISH - File Size: 788.52 KB
Resource Snapshot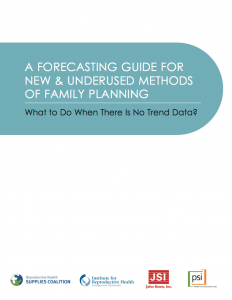 Publisher IRH/JSI/RHSC/PSI
Year 2012