How do social systems drive behavior? The intersections of norms and power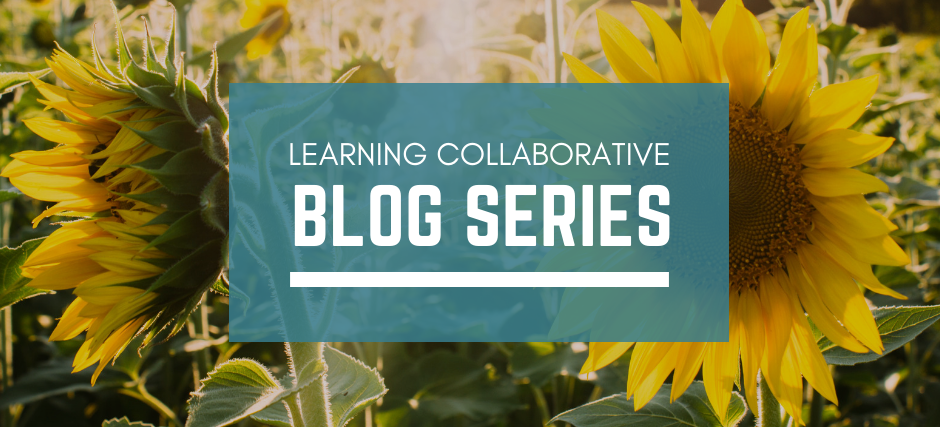 The Learning Collaborative to Advance Normative Change is a network of experts committed to facilitating collaboration between organizations and individuals working on adolescent sexual and reproductive health norms-shifting initiatives. Members are working collectively to build knowledge and tools to promote and guide effective social norm theory, measurement, and practice. In our previous blogs, we tackled what social norms are and how interventions address norms. Here, we address: How do social systems drive behavior? The intersections of norms and power.
Social norms are important drivers of behavior, but they are just one of many intersecting factors that influence the behavior of individuals, groups, and societies. The Learning Collaborative Theory Community adapted a conceptual framework from Cislaghi and Heise to articulate the relationship between social norms, other drivers of behavior, and adolescent sexual and reproductive health outcomes. By heightening awareness of the intersections of norms with other factors operating at multiple levels, the Flower Framework for Sustained Health can help us understand larger forces that lead to a shift in norms and related outcomes and provide insights for program development. The theory and evidence that informed the development of the framework is detailed in a working paper and will be featured in an upcoming commentary in the Journal of Adolescent Health.
The Learning Collaborative's adapted Flower Framework places social and gender norms in the inner circle where the four domains that drive behavior (individual, social, resources, and institutional) intersect. This highlights our understanding that social norms exist within—and shape and are shaped by—the social system in which they are embedded. Four elements are central to our framework:
.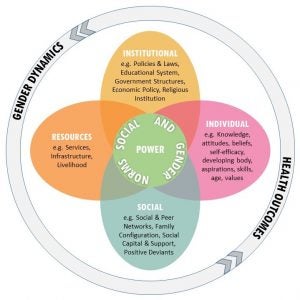 Power is placed in the center of the framework to demonstrate the important role power plays in compliance with social norms and reminds us of the need to identify who benefits from the status quo and retaining the prevailing norms.
Gender norms are a type of social norm that describe how people of a particular gender (and often age) are expected to behave, in a given social context. They define appropriate rules of interaction, relationships and roles at all levels of the social system. Gender norms are shaped by and shape power in relationships which leads to different risks and opportunities for initiatives seeking to improve adolescent health. Programming that is not responsive to underlying gender norms can be ineffective, or even backfire and exacerbate harmful norms.
The intersections between domains (individual, social, resources, and institutional) represent opportunities to disrupt, develop or transform outcomes. In other words, multi-level approaches that work at the intersections (for example, programs that have activities that reach the individual and social domains) may be most effective at leveraging norm change.
Putting social and gender norms at the center of the model demonstrates the pivotal role of norms while acknowledging that structural factors are fundamental in developing and maintaining power, shaping gender and other social dynamics and influencing health outcomes.
The framework is designed to initiate discussion, reflection, and planning for research, programming, and scale-up of norms-shifting interventions. Our goal is to increase the clarity and rigor of the design, implementation, and monitoring and evaluation of programs that address the social context of adolescence.
To learn more, check out the following resources and stay tuned for our next blog:
Social Norms at the 2018 International Conference on Family Planning
Anjalee Kohli, PhD, is an Assistant Professor at Georgetown University's Institute for Reproductive Health and co-facilitator of the Learning Collaborative's Theory Community. Anjalee has worked on research and practice for prevention of gender based violence, violence against children and HIV/AIDS,. She is interested in community-based partnerships to design, implement, improve and evaluate programs to prevent violence and improve family and community well-being through addressing the social determinants of health.
Rachel Lenzi, MPH, is a research associate at FHI 360 and a member of the Learning Collaborative's Measurement Community. Rachel's work focuses on applied research and evaluation for social and behavior change programs, including how to balance research rigor with the realities and complexities of interventions at scale. Her work spans multiple geographic regions and health and development sectors, including sexual and reproductive health, gender-based violence, HIV prevention and integrated health.
If you are not yet part of the Learning Collaborative and would like to join, please sign up here!