From sketch to tapestry: Tékponon Jikuagou's vision by Beninese artist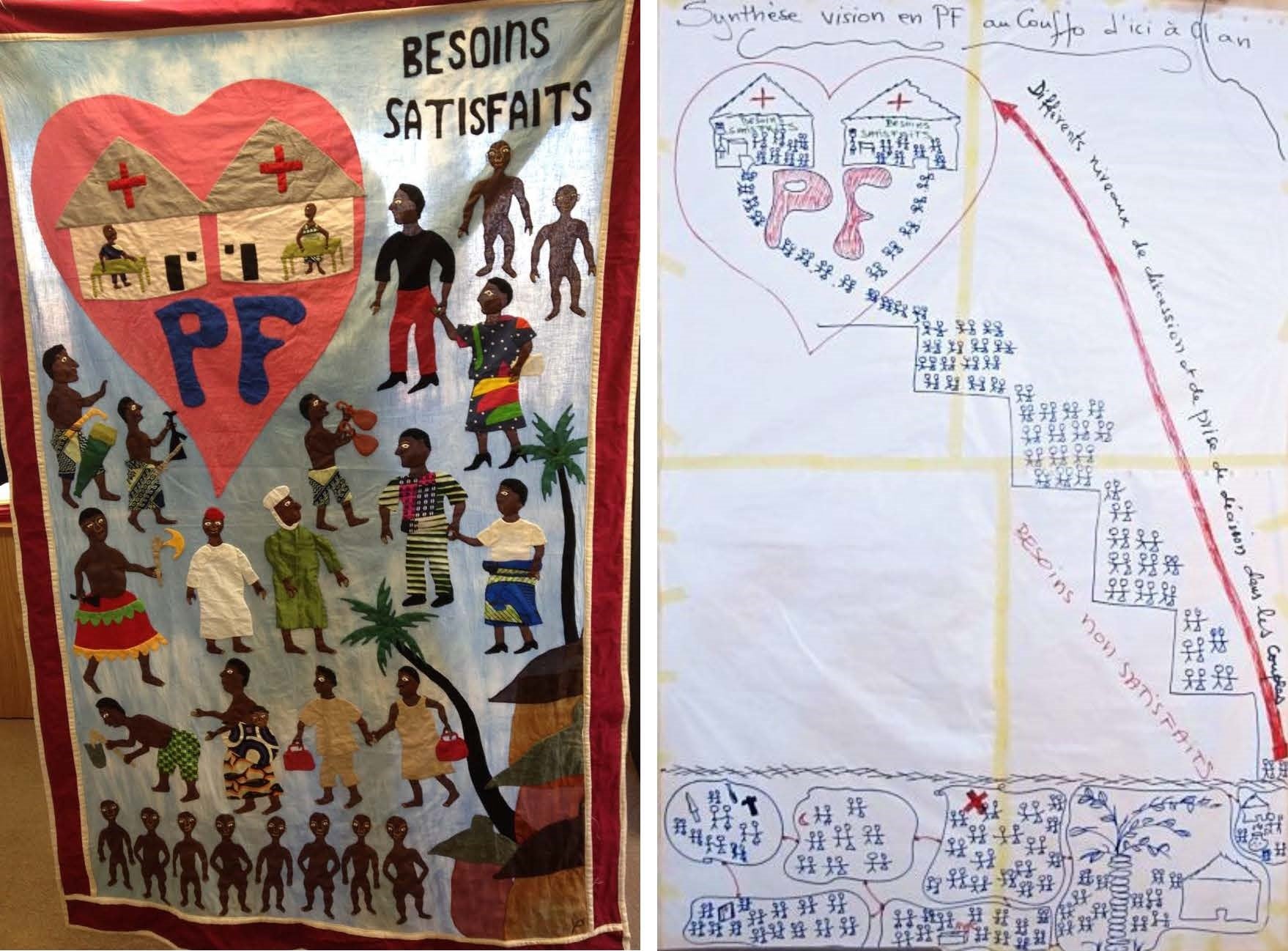 This hanging tapestry art piece (on left) is unnamed, but represents an artist's understanding of the Tékponon Jikuagou Project vision (on right).
Meaning Behind the Art
The original project vision sketch (on right) was drawn at the first Benin Tékponon Jikuagou staff meeting in 2012, revised in late 2013, and represents what the project hopes to accomplish by 2016.
The figures at the bottom of the piece represent community groups (read: social networks) where women and men gather together. The various circles and lines represent social diffusion or the spread of information occurring within and between groups. Using reflective dialogue and experience-sharing through their social networks, people with unmet need for family planning will begin to talk about, reflect upon, and decide to act on their unmet need. Therefore, the stairs represent both personal and community pathways — each step signifying different levels of public discussion, reflection and decision-making. The pathways or stairs ultimately lead to couples, women and men seeking and obtaining family planning services, meeting their desires to space children and plan their families.
Story of the Tapestry's Creation
In 2012, the Tékponon Jikuagou team was holding a meeting at the hotel in Bohicon, where a well-known Beninese artist named Yves Pede Apollinaire had his art on display. The team was fascinated by the beauty of the tapestry pieces and how they were very grounded in the cultures where the project was working. After inquiring with the hotel about the artist, the team organized to meet with Yves Pede Apollinaire. After seeing the team's original vision and hearing the meaning behind it, he agreed to create a project tapestry for Tékponon Jikuagou. The result is a beautiful representation of the project, which the whole team is enjoying.
About the Artist
Mr. Yves' work derives from art styles practiced in the days of the last great kingdom of Dahomey. His themes are inspired by religious traditions and Adja, Fon, and Yoruba cultures. Vodun is an essential underlying force in his work, which Mr. Yves believes also makes his work contemporary. The brilliance of his art is to mix cultural elements and symbols to create visions of a new cultural universe. His artistic themes and artistic media (tapestries) are explicitly linked, and in this way, he also creates linkages between meaning of a piece of art and cultural significance. He has exhibited his work in Benin and Europe.
—
Learn more about Tékponon Jikuagou:
[Recent Blog] Social Networks' influence on Family Planning: Some fascinating findings from Tékponon Jikuagou
[New Brief] Overcoming social barriers to family planning use: Harnessing community networks to address unmet need (English, French)