Girls' Holistic Development: How-to Guide
The Girls' Holistic Development program is a community-based intervention that has been implemented by The Grandmother Project | Change through Culture in the Vélingara department of Senegal since 2006. It aims "to strengthen community capacity to promote the health and well-being of girls" (Musoko et al. 2012) by strengthening positive cultural roles and traditions that collectively are supportive of the girl-child, reducing the occurrence of child marriage, female genital cutting, adolescent pregnancy, and increasing girls' attendance and retention rates in school.
This guide is designed to be used by other organizations desiring to implement the Girls' Holistic Development approach, alone or in conjunction with their ongoing programs. It shows the steps that need to be taken to foster intergenerational and other community dialogues, expand grandmothers' traditional roles as advisers to young girls, and build community-school linkages. Together these activities lead to community collective actions that promote the well-being of children, particularly girls.
Aperçu des ressources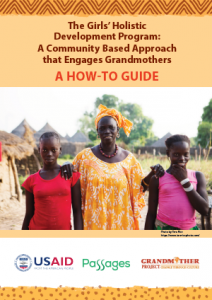 An 2019